Los cuernos de mi marido/My Husband's Horns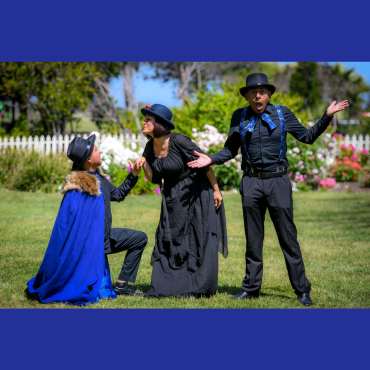 Presented by Teatro Nahual

Saturday, October 14 at 7:30 p.m.
In the theatrical adaptation of one of Moliere's most important farces, My Husband's Horns (originally titled Jorge Dandín), we see Jorge, a rich peasant, seeks to raise his social status by marrying the beautiful daughter of the Sostenes de Varilla family. Monsieur Sostenes de Varilla is a financially ruined bourgeoisie who, despite his poverty, refuses to accept the family's new reality. The Sostenes de Varilla's still claim to belong to the high society of the town where they live and thus despise their son-in-law for his humble origins and for not being worthy of Angélica. Jorge, who admits to being a cuckold, tries in vain to unmask his wife's infidelity; while she cunningly reverses any evidence of infidelity against Jorge himself.
This work presents a social critique where the importance of money surpasses morality and human dignity. Teatro Nahual masterfully stages this farce with eight fabulous actors on stage and live music. This will be the premiere performance. This performance is 2 hours long with one 15 minute intermission and is appropriate for all ages.
Performed entirely in Spanish. An English Summary of the plot is included in the program
SecondStage | General Admission | $30 Adults
$27 Seniors (62 & above)
Ticket price includes $2 Facility Use Fee
Other fees, depending on method of purchase, may apply
Lap passes are available for this performance